For Immediate Release


Beholdance Celebrates Smiles
Kannapolis, NC – (September 14, 2008) Beholdance has been working on Conservation and Earth Environmental Education for over a year. One of the goals for the 2007-2008 Beholdance year was met on Sunday, September 14th at the Beholdance Appreciation Luncheon. A Beholdance check for the amount of $250 was presented to the Smile Train for the sponsorship of a child's surgery to repair cleft lip and palate.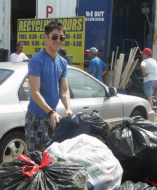 Beholdance Member, Josh Self helping to deliver cans for recycle
Beholdance youth worked with community businesses and others to gather aluminum cans to be recycled. The funds presented for this surgery all came from recycling. The group hopes to prove that you can make a different by protecting the environment as well as improving the quality of life. Everyone wins!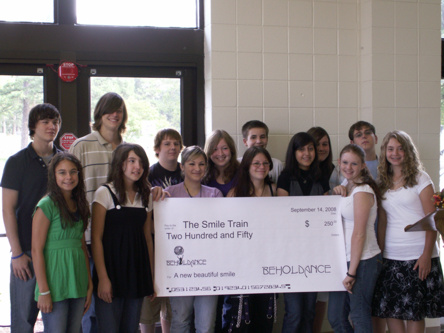 Front Row (Left to Right):

Jaclyn Swartz, DeAnna Butcher, Meredith Baker, Tori Cantales, Dakota Palacio, Megan Hoyes, Katie Waldroup.
Back Row (Left to Right):

Tony Butcher, Cory Hoyes, Anthony Palmer, Hannah Love, Devon Scott, Amanda Surles, Zac Swartz
Beholdance has an on-going recycling campaign and all the funds collected go toward repairing children's smiles, through the Smile Train. "There is no greater gift than giving someone back their smile. It will go along with all the best moments in their life," says Beholdance founder Dakota Palacio. The Smile Train is a charity of choice by Beholdance. Many children with un-repaired clefts cannot eat or speak properly, they are not allowed to attend school or hold a job and many live lives of isolation, pain and heartache. The good news is it can all be resolved with a surgery that cost only $250 dollars, giving a child a better quality of life.
To assist with this campaign, please contact Beholdance at www.beholdance.org.
Beholdance Youth Conservation & Community Service
Beholdance Mission is to come together and take a look at issues effecting the health and well being of our planet and to stand up and give our youth a voice to our future, while instilling values, character and education regarding conservation and community service to better the world in which we live. To bring focus to our future because we are the generation that will inherit the earth and it is our voice and actions that will ensure it will be loved, protected and healthy for the coming generations. www.beholdance.org
Smile Train
The Smile Train is the worlds' leading cleft lip and palate repair organization that provides free surgery for millions of poor children in developing countries as well as in the US. They also provide cleft-related training for doctors and medical professionals. www.smiletrain.org